Bronte is the new hot spot for surfers during beach closures in Sydney's east.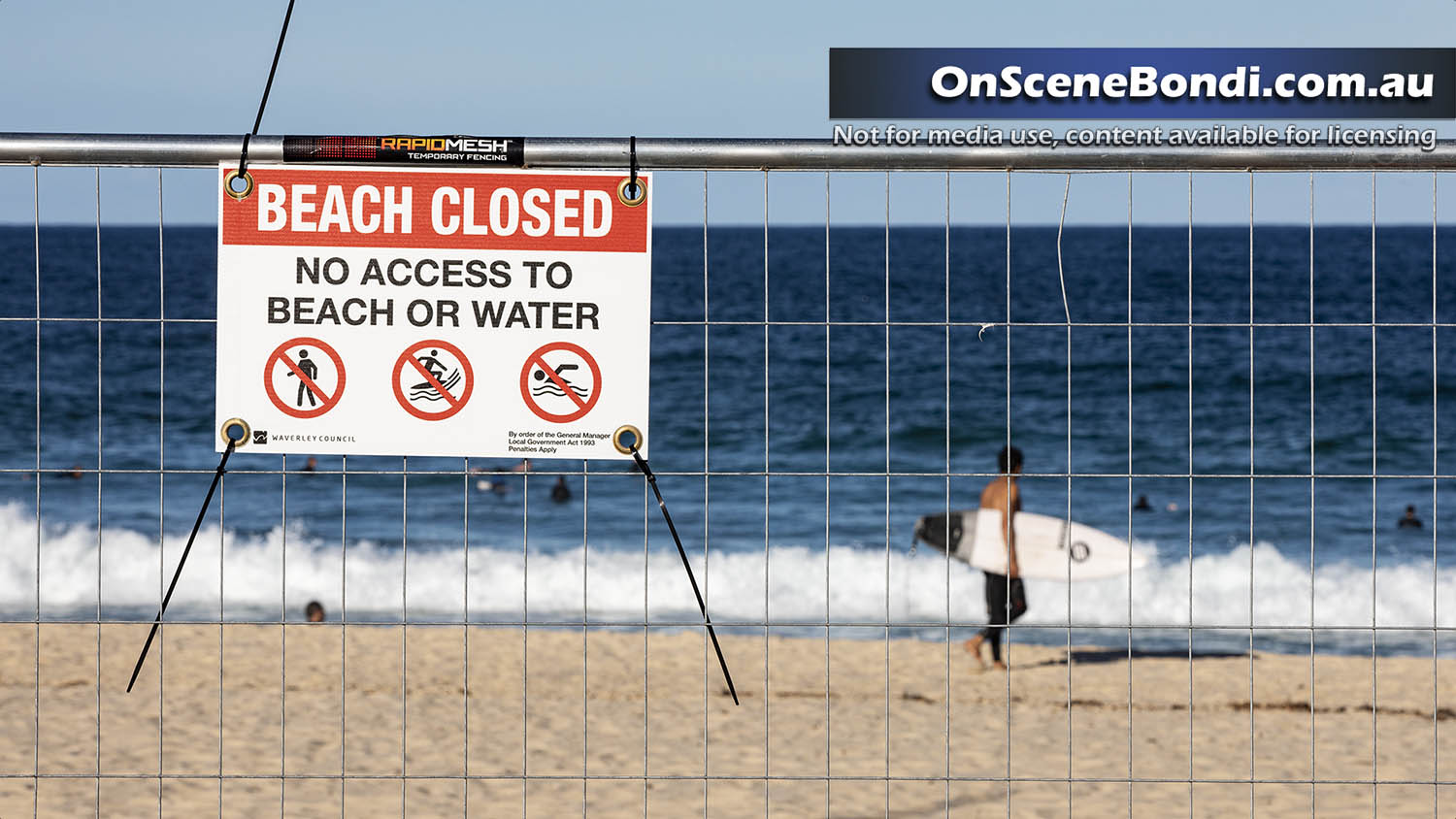 Bronte has become the place for surfers to use the sea, but how to safely and legally access the ocean has become an issue.
Surfers have said that they can access the sea via the rocks to the north of the beach and legally enter, but this is faced with the risk of injury.
The other method used was to jump over railings and circumvent barricades that have closed Bronte beach.
Lifeguards on duty remain at the ready at Bronte to assist but do not patrol the ocean as they fear it will encourage swimmers to use the beach.
Today at Bondi, police moved some people on but ended giving up as they simply don't have the resources to keep telling people they can't sit on the grass.
They said as soon as they move some on, more arrive. It's an impossible task.
Despite this, police continue to issue fines of $1000 to those who disobey directions across the state, however it seems criminal and antisocial behaviour is the target rather than people who are sitting and doing nothing.
Whilst groups of people kept their distance from one another, the lines between exercise and laying on the grass became blurred both at Bronte and Bondi.
Police and councils have dedicated resources to prevent people from "sitting still", but it's apparent that the numbers of people are unmanageable.
Public are doing well at keeping their distance from one another, but the beaches remain officially off limits with no definitive plans to reopen them.
Locals have said the southern and northern beaches have got it right and many have visited these areas to surf and exercise.
Surfers enter Bondi before and after the lifeguards are on duty to not cause them additional work and stress.
Surfers say Bronte however can be accessed by the rocks, but they say this creates more dangers and a risk of falling down the rocky cliffs.
Waverley council continues to assess the situation and is taking advice from NSW Heath and state government.
In a statement issued earlier today, Mayor of Waverley, Paula Masselos said
"I want to reiterate that our beaches remain closed and that we have no intention of opening our beaches at this time. If you are planning on travelling to our area this weekend, don't. Our beaches are closed and you should stay at home in your own neighbourhood.
For Waverley residents, I continue to remind you to stay at home where possible and if you must exercise outdoors, then please follow the instructions of our Lifeguards and Rangers at all times and continue to obey government restrictions relating to non-essential travel, social distancing and public gatherings. We echo the Commonwealth and state governments' advice: please stay at home where possible.
The Council will let the community know when any further decisions have been made. As of this point, there is nothing further to report"
Pictured:
Bronte Beach (Surfers, Northern Closed Gate, Park)
Bondi Beach (Sunbathers on southern grass)